It finally came!  This weekend was the Decatur Book Festival!  I volunteered to work the first half of the day at The Escape, the Teen Stage.  At the beginning of September, I decided to read a book from each of the authors I would be seeing.  So I read I'd Tell You I Love You, But Then I'd Have to Kill You and Cross My Heart and Hope to Spy by Ally Carter, Peace, Love, and Baby Ducks by Lauren Myracle, Pure by Terra McVoy, Sea Change by Aimee Friedman, As You Wish by Jackson Pearce, Shiver by Maggie Stiefvater, and Vampire Academy by Richelle Mead.  Some of them I liked, some of them I didn't.  Most of them you can read my opinions about here or on Goodreads.
I decided to go over to Decatur early so I could walk around before I was volunteering.  Everything was very festival-ish – lots of tents, funnel cake and fresh squeezed lemonade stands, lots of people milling about.  There was a parade to the children's' stage that I ended up being in the right place for – this is the banner at the end:
As you can see, the day was not exceptionally sunny, but it was definitely humid!  I ran into a couple friends and chatted with them and got them to get a book signed for my dad during my shift.  (Thanks again, Jenna and Giselle!)  After adding a few answers to the giant crossword puzzles (I was good at the Harry Potter and the Children's books ones and just okay at the adult one!), getting a grilled cheese sandwich (from the Kid Food stand – oops!) and some lemonade, I checked in, put on my T-shirt, and headed to my stage.
The shirt is orange, which I kind of object to, but at least it is not a bright Tennessee, Auburn, or Florida orange.  The book monster on the front is Bookzilla.  You can see the full demon lizard on the DBF website.
The Escape was luckily one of the indoor stages.  The air conditioning was nice, but after several hours of the door constantly opening and closing, it was hot and stuffy in there too.  But no worries!  Too many things to do to worry about the state of my (incredibly frizzy) hair.  When I arrived, I found out I was the only volunteer for the morning.  My stage captain was Terra McVoy, plus three people from Little Shop of Stories who were helping out and selling books.  I helped them put LSoS bookmarks in all the books, which was kind of fun.
The first panel was a group of guys and a girl talking about minicomics.  They talked about how to self publish your work, how to get ideas, and how to make comics if you aren't the best artist.  It was pretty interesting.
The next speaker was Ally Carter, the author of the Gallagher Girls books.  She is incredibly nice!  Our little room quickly filled with girls listening to her.  She talked about getting published and where her ideas came from.  Gallagher Girls has always reminded me of Alias and it turns out that was the inspiration!  In the episode where they show Spy Sister's background, Ally had it on mute and thought Nadia grew up in a spy boarding school.  She didn't – it was just an orphanage, but that's where the idea started!  Ally said that the plan is to have 6 GG books, which is fantastic!  I love Cammie and her friends.  The next book she has coming out is Heist Society, about a girl from a family of thieves.  I am sure it will be an upcoming Waiting on Wednesday.
The next event was DUCK Improv, a group of high school boys doing improv.  I did not get to see any of this because I was outside managing the line for Ally's book signing, but I heard a lot of laughter from the stage.  My job during the signing was to write everyone's name on a post it note and stick it in their book so the author wouldn't have to ask how to spell it.  At first, the table was inside and the line was outside, so I also had to manage how many people were in line inside so it didn't get to loud or crowded during the other speakers.
Next up were Lauren Myracle and Terra McVoy.  They talked about writing about spirituality in teen books.  To be honest, I wasn't a big fan of either of their books.  I am a Christian, so it wasn't because of the subject matter, but they just did not appeal to me for various reasons.  However, I thought their talk was great.  They talked about their books and how they wanted the characters to be true and honest.  They didn't want cookie cutter Christians where everything was sunshine and roses.  They wanted to write about the real struggles Christian teens face.  I really respect that and will give other books by both of them a change.  Despite not liking Pure, I really liked Terra McVoy!  She is an amazingly nice person.  She's very passionate about children and teen books and her energy is contagious.  It was fun getting to know her.
The next two speakers were Jackson Pearce and Aimee Friedman.  I loved Jackson's book As You Wish.  It was fun and adorable and made me wish for a Jinn of my own.  To fall in love with, not to make wishes, though I might have to wish for a cure for my dog's ailments.  Their talk was about falling in love with the supernatural.  I honestly didn't get to hear a lot of their talk because I was back to managing the line for Lauren and Terra's signing, then helping the rush of people coming in for the next authors find seats.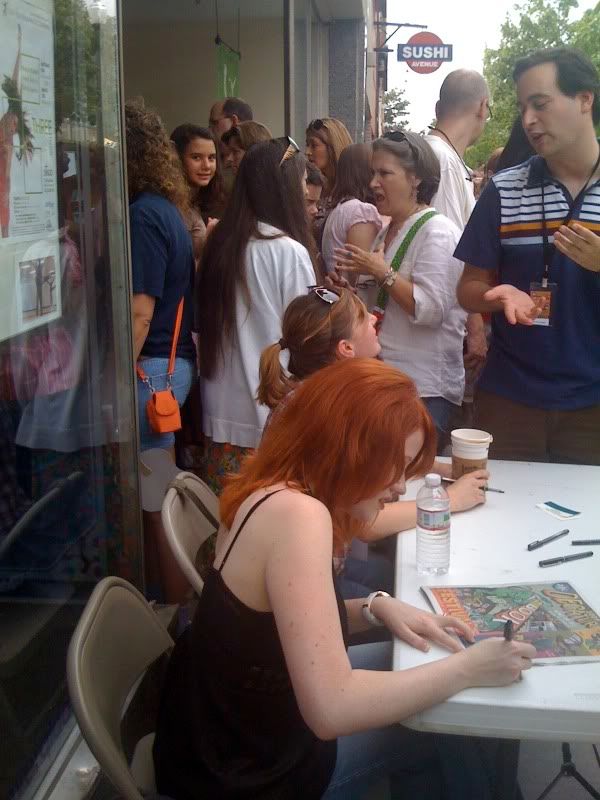 Then I was standing at the back of the room and Maggie Stiefvater came in!  I loved her book Shiver and I've been following her blog and twitter for a few weeks and think she's hilarious.  She was so nice!  She talked to me, despite the wildness of my hair! :)  I told her that I loved Shiver and she laughed and said it was still really weird to hear that.  She was just so nice and easy to talk to.  She said she had been sitting in a coffee shop before she came over and overheard a couple people talking about a book's plot and characters.  She shared my amazement at the number of people excited to see authors and talk about books.  She was the next author on stage along with Richelle Mead, author of the Vampire Academy books.  Their talk was called the Vampires versus Werewolves Smackdown.  With lots of audience participation, they discussed which supernatural being was superior.  It was all really fun.  I was doing crowd management (the number of people that wanted to see them was insane!) and carrying books back to LSoS during the talk, so I missed a lot, but some of the things I did hear:
Lethalness: Werewolf killings are more drawn out and painful, but vampires are more stealth and can snap your neck before you know they are there.
Hotness: Werewolves are more muscular and animal like and "Taylor Lautner is really hot!"  I missed the vampire rebuttal to that one.
Better Clothing: Vampires in general have better clothing, but werewolves end up naked, so… make you own decision! :) (That was Maggie's comment.)
Everything I heard was very fun and funny.  I think they did talk about Twilight a little, but I don't think very much.  I knew the line was going to be insane and I actually wanted to get my books signed by these two, so I ducked out just before their 30 minutes were up and got in line.  We'd moved the signing table outside, which helped a lot.  The picture up there is Richelle, Maggie, bonus David Leviathan who spoke later in the day, and mass of people going in and out of the door to our stage.  After getting my books signed I had to hurry back to MARTA so I could get home and watch the UGA game.  I ended up making it home with about 2 minutes to spare before kick off.  I was so exhausted that I barely stayed awake through the game! (Not that it was much of a game after the first quarter.)
Overall, I am so glad I volunteered.  There were a couple authors at other stages I would have liked to have listened to, but getting to be involved was so much more fun.  I got to meet all of the authors that came in during the day, which was very cool.  I got a free t-shirt, even if it is orange.  Mostly it was just fun.  I know this is going to make me sound old, but it was really great to see young people excited about meeting authors of books!  Most of them had already read the books and were more than willing to talk about them.  I chatted with the girls around me in line for Maggie and Richelle's signing.  They all loved the Vampire Academy series and couldn't believe I've only read the first one.  I was told to read the other three ASAP!  They had not read Shiver, so I told them about it and encouraged them to check it out.  A couple of them went ahead and bought a copy to have signed, which made me excited.  I love talking about books and sharing good books with others.  That's why I started this blog!
Sunday I decided to go back to Decatur and walk around.  I sat at the Emerging Authors stage for a little while and listened to a couple of people talk.  I ended up buying a book called Adopting Alesia by one of the authors I saw, Dee Thompson.  It is her story of going to Russia to adopt a preteen as a single mother.  Her experience sounded very interesting, so I'm excited to read the book.
Afterwards, I headed over to the Children's Stage and saw Judy Schachner, the author of the Skippyjon Jones books.  If you've never read them, you must read these books!  They're about a Siamese kitten that thinks he's a chihuahua.  They are seriously hilarious.  Her talk was very fun.  There was a lot of singing involved. :)  I got the first Skippyjon book signed for two of my friends' sons.  After standing in line for Skippyjon, I was hot and tired, so I headed home.
Such a fun a weekend!  I can't wait for next year!